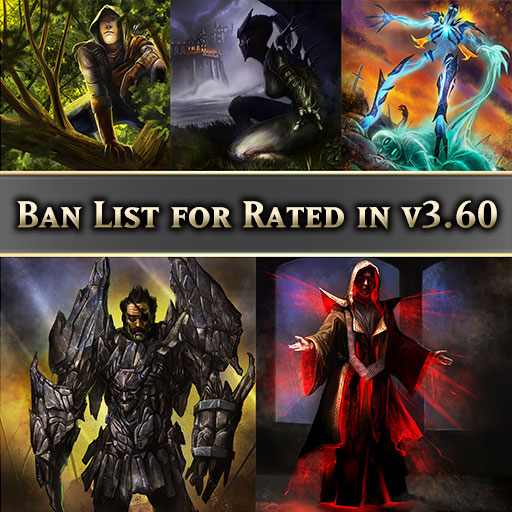 As previously mentioned in the
v3.55 Playtesting Update
,
we will be enforcing a Ban List for Rated Multiplayer matches in v3.60
. Please note that Unrated, Campaign and Meltdown will be unaffected.
BAN LIST FOR RATED IN V3.60
These cards are not usable in Rated Multiplayer in v3.60, but can still be used in Unrated, Campaign and Meltdown:
- Into the Forest


- Lay Low


- Soul Reaper


- Armor of Ages


- Crescendo

RATIONALE
We have created a Ban List and chosen these five cards for it because:
- It is the shared belief of the Shadow Era Design Team that
having these five cards in the game does more harm than good
.
- All five of
these cards have been specifically mentioned in complaints
about "stall decks" and "negative playing experiences" for the past seven years, with a marked increase over the past year.
- Implementing a trial Ban List for v3.60 is a
very very low cost way to both test our hypothesis that the game will be better without these cards and also attempt to improve the environment
in response to the player complaints.
WHY NOT INCLUDE OTHER CARDS?
We know other cards have been suggested to be banned (e.g.
Rain Delay

), but
we can currently see enough redeeming qualities in them that make them worth keeping
.
These five cards (
Into the Forest

,
Lay Low

,
Soul Reaper

,
Armor of Ages

and
Crescendo

), on the other hand, would never be designed and added into the game today because
they enable and promote a type of playing style that the vast majority of people dislike facing
, which really is not great for player retainment!
FUTURE PLANS
After we have had time to witness the impact of the Ban List, we will be able to make a much more informed decision from the options available to us.
For example, for each individual card, we could:
- Keep that card on the Ban List permanently and compensate any players with that card for the playability restriction we have imposed.
- Design a new card based on the redeeming features of the original, which can be given free to any players owning the banned card.
- Remove that card from the Ban List and admit actually it does have a place in the game.
- Errata the card in an attempt to make it not so harmful.
These are listed in order of likelihood based on what we know today, but they are all potential options to consider for each of these cards (and any others that raise their ugly heads in the future).
COMMENTS AND QUESTIONS?
We understand some people will not be happy about this move, even if it may only be temporary to gather information, so feel free to air your grievances below! Similarly, please post any questions you have ... or even positive feedback about this.