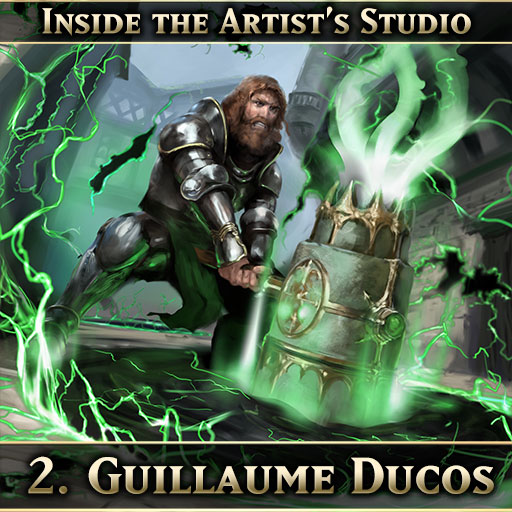 Hey everyone! Welcome back to Inside the Artist's Studio, where I fire questions at the artists who have been producing the excellent artwork for Lost Lands Part 2.
Today we have Guillaume Ducos, artist for the Stardust allies, Chambers that turn Elementals back into Aldmors, and of course a certain Location exiling Hammer. I think you will find this one quite interesting and insightful.
Q: Tell us a little about yourself, such as who are you, where are you from, your age if you like, and any other bits of info you'd like to share.
I am Guillaume Ducos, 32, illustrator...
I live in France in a little city called Agen, but I expect to move soon to nowhere in the countryside, to have my house with a little land, my family and dogs. And no motors at the bottom of my building.
Q: Tell us a bit about your art background, such as when and how did you start, education, etc.
As any illustrator or painter in this world would say, I can't remember a time when I didn't have a pen in hand. But I fully remember when I dropped it!
Dad said "Only really gifted people can make a living from art." As I wasn't a part of "really gifted people" and that school was so easy that I never had to work to get degrees, I thought "Hey! Let's go and do studies, and then... er... We'll see, yeah!".
At 20 I quitted psychology studies after realizing that I did not like people with unlikely accents trying to make me believe that a 4 years old child necesseraly wants to have sex with his mother.
So I came to an applied arts scool to learn how to pull 3D vexels and put textures on squares... Didn't like it either.
But finally at 22 I had discovered the Graal, the Graphic Tablet and the Digital Painting! So I went back to my parent's, locked myself in my room and painted and studied and posted on the web until I had my first contract 3 years later.
Q: Have you or do you work in more traditional physical mediums (e.g. painting), or do you mainly like to create digitally? If so, what about digital attracts you to that medium?
Except for seldom occasions when I draw with pens or pencils (or in my mash potatoes), I draw all I have in mind on my screen.
It feels especially easy and without pressure – when you make a mistake, ctrl+z is enough not to ruin your job.
I have also some difficulties with the physical aspect of painting: I am not at ease with the touch, the smell gives me headache and I am color blind (and thus unable to cook the good colors. With the software palette, colors being presented rationnaly helps me a lot)...
Now I think about it, I never should have become an illustrator !
Q: Have you done work for other CCG/TCG or video game projects? If so, what games?
I work essentially on TCG and CCG – It feels like I am a pictures factory some times (but no complains about it!) but this kind of projects always need new artworks which is good for me.
I began with Moonga (Everdreamsoft) and some games from FFG (Lord of the Rings, Talisman, WarHammer: Conquest), and lately I begin working on HEX and Shadow Era.
Q: Do you play any video games in your free time? Maybe some of the games you've done work for (Shadow Era is a pretty great one if I do say so myself.)? Or what other hobbies or recreational activities do you take part in during your free time?
I used to be a game addict so I do my best not to go back to that – nevertheless I continue playing casuals that don't need too much investment.
Apart from that, I am also a musician, with lot of piano and singing and when I am so tired I don't have energy for anything, a good book in my relax armchair is the best end for an evening.
Q: What is the process of creating each card artwork like? Gondorian (Ian) gives you some sort of general prompt of what he's looking for I assume and then what? How much do you go by the prompt and how much do you go by your imagination?
Gondorian is the Art Director with whom I have the most space to create an image.
The descriptions he gives me contain the title of the card and its effect, sometimes a note with a special point but most time I have absolute freedom of creation (within the limits of the universe of course).
Q: Is Gondorian pretty strict when it comes to what he's looking for with each art? Or does he just let it be mostly up to what you imagine?
As I said in the previous paragraph, my ideas seem to match what he expects and generally there is no problem at all in advancing from the sketch to the final, except for some tweaks here and then.
Q: For any aspiring artists out there, what are some of the devices and software you use in your work?
First: a lot of photos and other artists works for inspiration. Special advice for young aspiring artist: there is nothing in your head and you don't create from nothing (there is only one guy who achieved that...). You have to study a lot and even when you know each muscle bone and vessel of the human body by heart, you need a model for your characters poses.
As a painting software I have been using PainterX and the same 24x32cm graphic tablet for the last 10 years... I am thinking about evolving a little...
Q: What is your favorite part of the creative process? Planning out a concept? Delivering the final piece?
The painting itself is great, especially the beginning after the sketch is approved when I can smear the colors in order to sculpt details in the spread mass.
The detailing is also a good time when I can but even your favorite AD waits for his picture so you come to a point when you have to deliver the job even if you feel that it will be complete in a decade...

Q: How long does the average Shadow Era artwork take to complete?
About 5/6h.
Q: What are your favorite things to draw (e.g. warriors, creatures, environments, sci-fi, etc.)?
I like drawing anything – or I wouldn't become an illustrator if not! But I particulary like monsters and zombies because anatomy accuracy can be bypassed a little and I am not oppressed by the obsession to give them a beautiful face.
Q: Do you have a favorite artwork in Shadow Era (one of your own or another that you have seen)?
I love Layarian diplomat, which is perfect for this card. He has this classic elegance tinged with arrogance that reminds of an English man of the 19th century.
Q: Lightning round! Favorite food? Favorite animal? Favorite place? Favorite movie? Favorite song?
Rib eye steak! Dog! Home! Starship Trooper! Der Vogelfänger bin ich ja!
Q: And finally, do you have any sites where people can have a look at more of your work?
Of course!
You'll find my best works on artstation:
https://www.artstation.com/herckeim
And the rest on Deviant Art:
https://herckeim.deviantart.com/