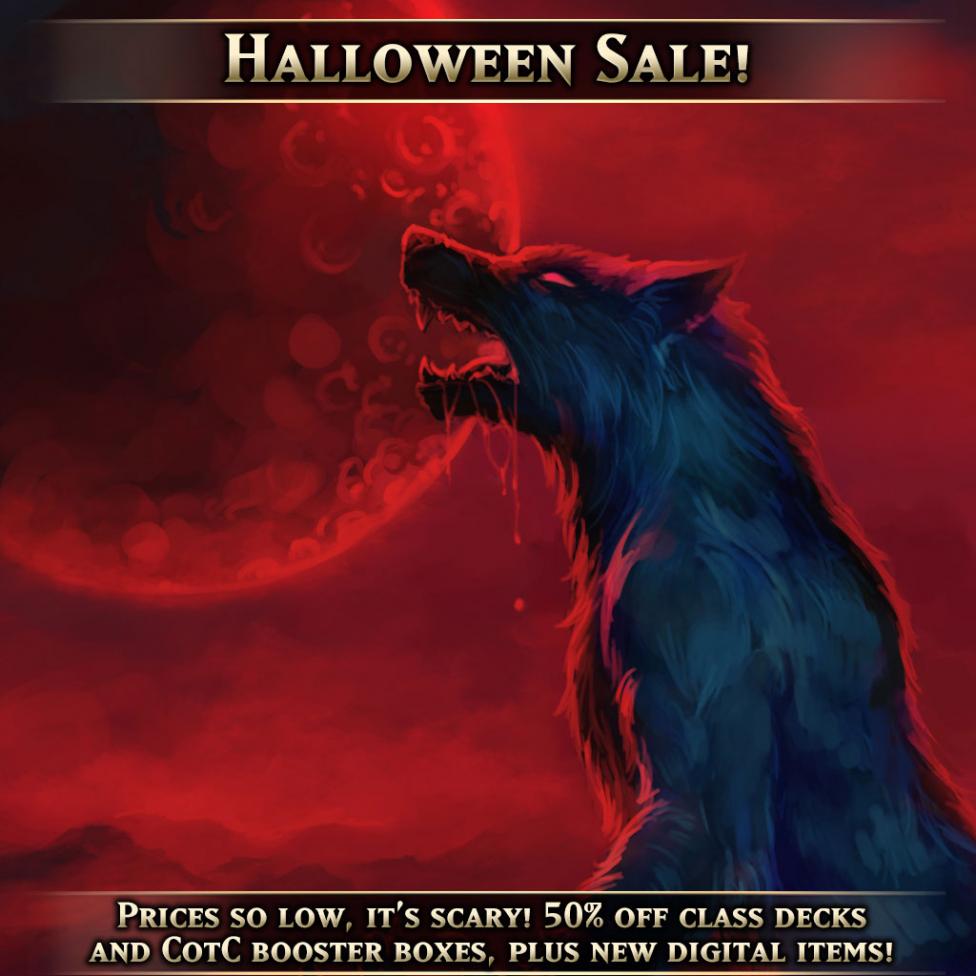 Halloween Sale!
Tick, tock, tick, tock! The time is running out to take advantage of prices so low, they are scary! We're having a
massive Halloween Sale
for both our digital and physical players. For a limited time, get 50% off Shadow Era
Class Decks
and
Call of the Crystals booster boxes
! We also have
Dark Prophecies booster boxes
shipping worldwide.
It's a great sale for our digital players too. Are you looking for that special card to complete your digital collection? Perhaps a foil hero to show off your deck, or a hard to get Legendary card? You can get exactly what you are looking for with the
Pick a Card
option! We're also offering digital booster boxes of Call of the Crystals, digital Dark Prophecies Booster boxes, and Shadow Crystals;
all at 50% off
! Sale ends November 1
st
so get them before time runs out!
Wulven Spotlight on Shadow Era Physical Cards
Just in time for our
Halloween sale,
there was a great
spotlight article
on our booming physical Shadow Era community. The article gave a nice overview of our
Champions of Shadow Era program
which is bringing
demos and tournaments
to local stores. The article also highlighted the many local Shadow Era gaming communities and some great physical content on YouTube; check out popular
Brazilian YouTuber Mr. Lupa Plays
do some unboxing of Shadow Era!
One thing surprising in the article was the value given to our digital players when they buy physical cards. Each physical booster has a
redeem code
for between 100-200 free Shadow Crystals. With 24 booster packs in a box, that's 2,400 to 4,800 Shadow Crystals in your digital game account! That's an added value of $20 to $40 when you check out the in-game Shadow Crystal prices. If you haven't taken a look, be sure to check out the full
Wulven Spotlight article
!
Extra Life Wrap-Up
To support everyone who participated in the
Extra Life
event and to bring more awareness to the campaign, we gave ALL digital Shadow Era players double experience and gold last weekend! We had many physical games of Shadow Era played, lots of Shadow Era streamed on Twitch and Hitbox. Thank you to
everyone who participated
or supported someone who registered. We're looking forward to this next year!