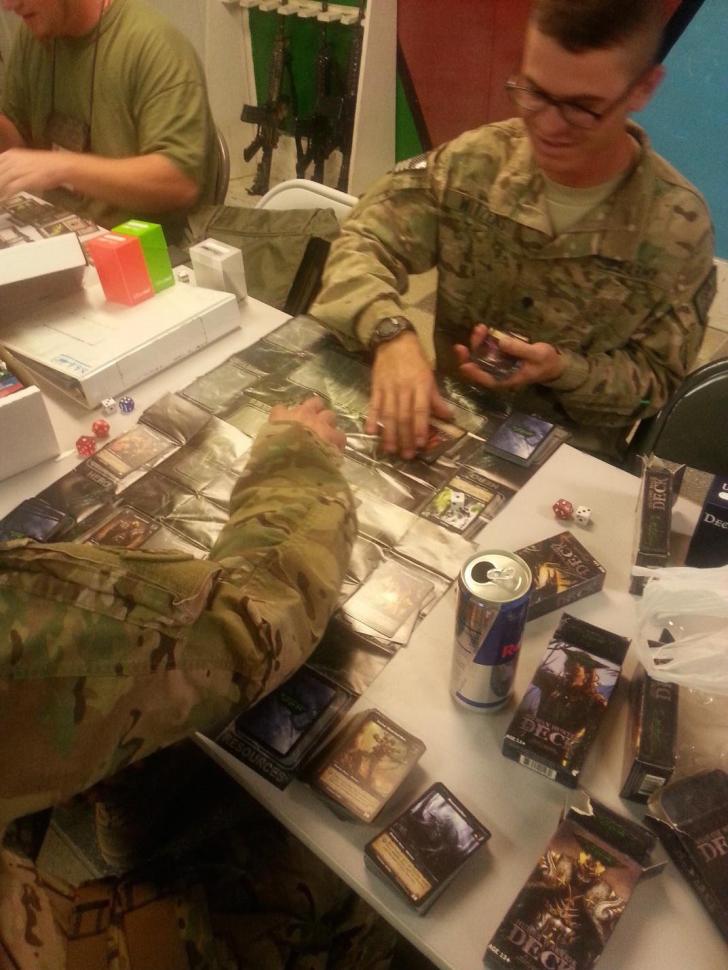 For long stretches of time you have to be alert. You need to be ready for anything. Stress levels are high dealing with the realities of everyday life on a military base in a foreign country. But gaming during downtime offers a social experience to relax, have fun, and offer some mental escape for a few hours.
One gaming group in Afghanistan is having a great time playing the trading card game Shadow Era during their downtime. Mathew Zerbe from Utah is a civilian contractor in Afghanistan who is bringing his love for gaming to both civilians and military personal there. He knows firsthand how stressful the military life can be and what a needed escape a gaming group can offer.
Growing up, Zerbe loved playing trading card games and board games. While in the Air Force from 2006 to 2012, Zerbe was deployed to Iraq. Often both civilian and military personal would be stuck in the passenger terminal waiting for flights. Having games on hand, he would share them with different units to help them pass the time. Word soon got out and people started to go to him to see if there were any new games to test out. At the end of 2012, Zerbe came to Afghanistan with a civilian company. Not finding any gamers in FOB Sharana, he turned to his Android tablet for entertainment. "I gave Shadow Era a try. I played around and I was in love. I think the resource management system is one of the best in all of gaming. The simple choice of which card to turn into a resource is one of the most complex choices. Also, each card is unique and not a single card ever felt boring," explains Zerbe. Now at FOB Bagram with some new physical Shadow Era cards, a new gaming group is flourishing under his leadership.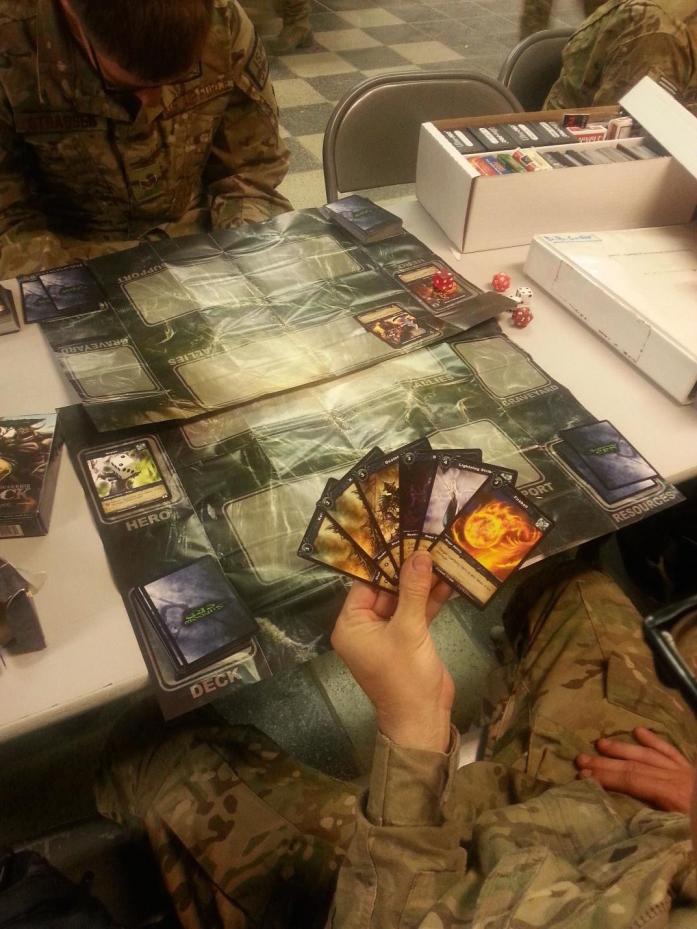 The gaming club brings to together a mix of civilians, Air Force, and Army Troops and offers a great social experience for its members. "You get to meet and get to know people that have your hobby but have a totally unique background and experience," says Zerbe. If he overhears you talking about a game in the mess hall, Zerbe is right there introducing himself and getting you out to the next meeting. Trying out Shadow Era and friendly completion has started many new friendships within the group. SPC Bond from 10th MTN DIV stationed in Fort Drum for the last four years is enjoying participating in the gaming club. "The club members are friendly and helpful. The fact that there is someone to hold tournaments out in Afghanistan is great," says SPC Bond.
Members are enjoying the social aspect of the club but on a more serious note they are quick to recognize that gaming is "mentally stimulating and helps distract the mind from negative emotions," explains SPC Bond. Zerbe agrees saying that "having something to do that can take your mind away from the military life is needed. All day long for 24 hours a day you have to be ready for anything. It could the locals, your Sergeant, or even that new LT that wants to do something stupid. Gaming is an escape."
The gaming group is enjoying the challenge of mastering the gameplay of each class and each Hero in Shadow Era. "I really like how each Hero feels unique and original. Deck building is a blast with all the different factions and classes you never get bored," Zerbe says. They are also finding the dual resource system interesting; the strategy of what to sacrifice and when to use your Hero's Shadow Crystals. "The mechanism is different but I like it because it makes me think in different ways," SPC Bond explains. Zerbe elaborates, saying, "I like the fact that you can always look at your hand and know the next few moves ahead. Yet you have to be flexible to change plans mid-stream. Maybe you can't play that 5 drop anymore because you need to play a 2 and a 3 drop, so you need that 5 drop as a resource... only to find out that 3 or 4 turns later you really want that 5 drop but you can't have it anymore. Every turn is a hard choice on what card to put into your resources or if you even want to put one into your resources."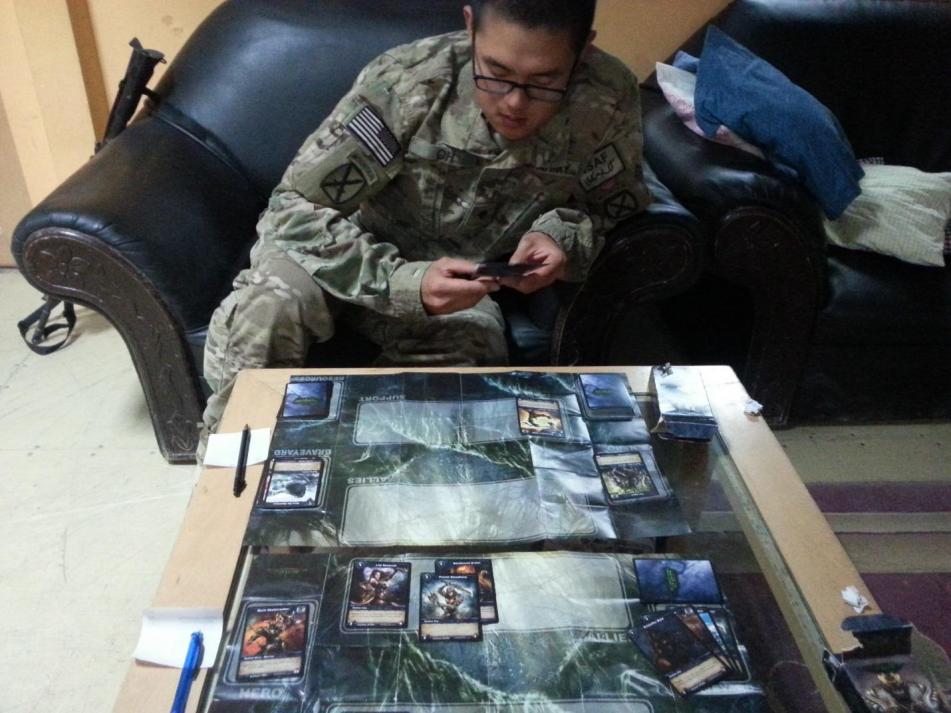 Emergency meetings come up and sometimes the base is on lockdown. But if they are available to meet up, you'll find this fun gaming club welcoming the rotating Military units and civilians at 1900 on Tuesdays and Thursdays in the 8-ball MWR on Disney Road in Bagram, Afghanistan. They welcome any of the troops to come by and play a game of Shadow Era!
Have a Shadow Era story to tell? Interested in having your guild highlighted? Email
muriah@wulven.com